The App Store Optimization Book
DISCOVER THE BEST ASO GUIDE
"App Store Optimization – A Step-by-Step Guide to Boosting Your App's Organic Downloads" is the most comprehensive App Store Optimization book in the market.
If you want to learn App Store Optimization in a simple hands-on way, this book is for you. Discover 307 pages of pure ASO knowledge.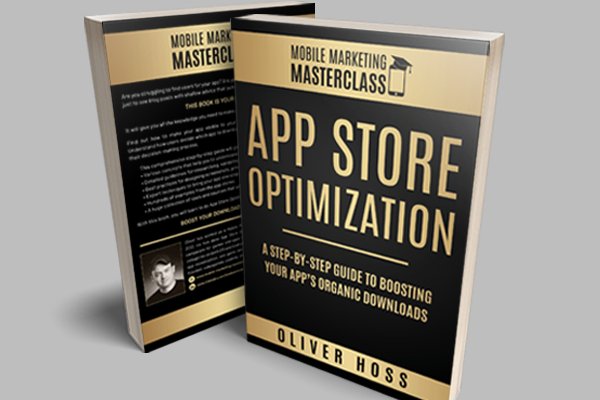 ABOUT APP STORE OPTIMIZATION
The App Stores are highly competitive markets. In Apple's App Store, users can choose between more than 1.9 million apps. On Google Play, the number is even higher: 2.8 million apps compete for users' attention.
To make your app stand out against this competition, you need to do ASO. Optimizing your app store product page will not only result in a constant stream of organic users. It will also leverage all other user acquisition efforts you perform.
App Store Optimization is the basis for the success of your app business.
ASO has a great advantage: It is free. So you do not need to invest enormous marketing budgets in paid campaigns. All you need is knowledge.
Across the internet, you can find a lot of content about App Store Optimization. But most pieces are shallow and do not cover the relevant topics in depth.
The ASO Book solves this Problem.
It will guide you step-by-step from learning the basics of ASO to developing your own strategy.
On 307 pages, you will learn all you need to know about App Store Optimization.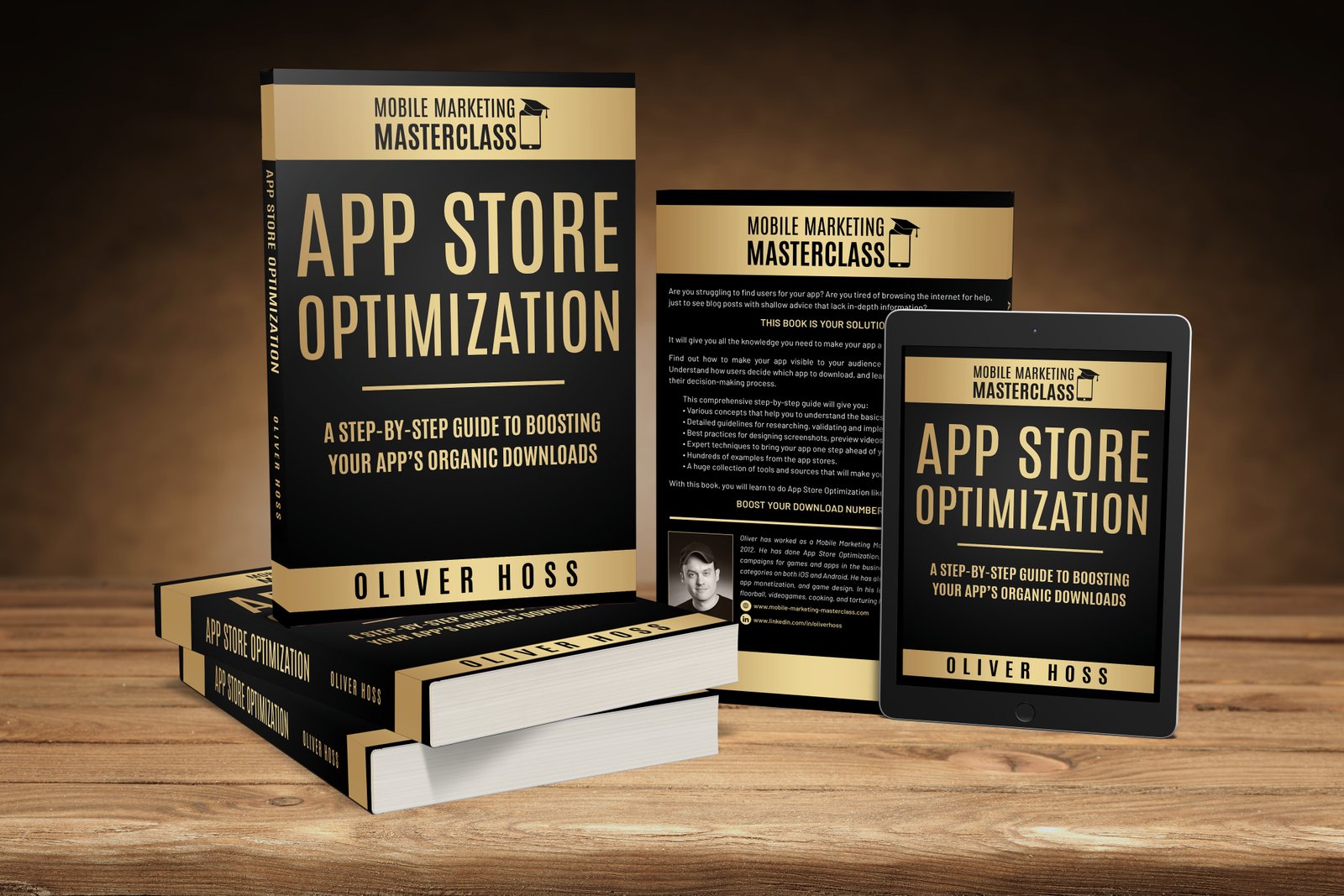 WHAT MAKES THIS ASO BOOK SPECIAL?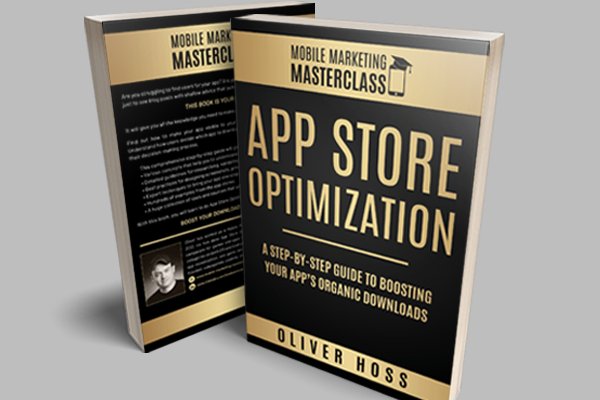 A Complete Guide on App Store Optimization
This book is a hands-on ASO guide and an easy read for Mobile Marketing newcomers as well as seasoned professionals.
More than 140 Full Color Figures and Tables
More than 140 full-color figures, including many live examples from the App Store and Google Play, illustrate the book's concept.
Available as Print Copy and PDF Ebook
The App Store Optimization guide is available as print-on-demand copy on all major Amazon storefronts and as PDF ebook on Gumroad.
PART I – ASO THEORY
The first part of the ASO book will make you familiar with fundamental concepts that you need to know to understand mobile marketing.
Chapter 1: The Basics
In chapter 1, you will learn all the basics you need about ASO. These include a detailed definition and the most important terminology.
Chapter 2: The Mobile Marketing Funnel
The second chapter introduces an important concept called the Mobile Marketing Funnel. It is a crucial tool to understand the journeys of app store visitors.
Chapter 3: The Role of ASO
So, how does ASO impact these journeys? Which role does it have in the Mobile Marketing Funnel? Chapter 3 sheds light on these questions.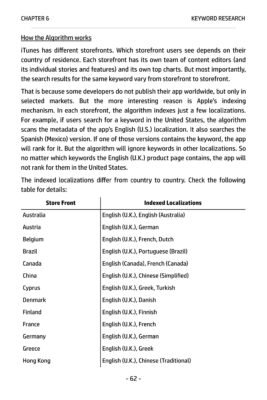 PART II – CREATING VISIBILITY
Part II of the App Store Optimization guide focuses on creating visibility. It contains all the information you need to make our app visible in the app stores.
Chapter 4: How to create Visibility
The fourth chapter explains the different options for this purpose. You will learn which requirements you must fulfill to leverage them for your app.
Chapter 5: Understanding Search
Search is key to making users aware of your app. Thus, chapter 5 is dedicated to this topic. It will define what a keyword is and why keywords are crucial for creating visibility.
Chapter 6: Keyword Research
Chapter 6 transforms ASO theory into practical advice. It is a step-by-step guide for keyword research. You will learn how to:
find the right keywords for your app
validate them and filter out the most promising terms
implement them into your app's product page.
PART III – CONVERSION RATE OPTIMIZATION
In part III of the App Store Optimization book, you will learn conversion rate optimization. It is full of comprehensive knowledge on designing metadata. This includes detailed step-by-step guides.
Chapter 7: How to increase Conversion
Chapter 7 introduces the concept of the Three Columns. After reading it, you will know how to design metadata that is relevant, helpful, and beautiful.
Chapter 8: Ratings and Reviews
Next, you will learn about the importance of users' ratings and reviews. This chapter includes detailed best practices for responding to user feedback.
Chapter 9: The App Description
In chapter 9, you will find on-point information about writing app descriptions. Besides tips on structuring the description, you will learn how to tell an engaging story. In addition, you will understand how to make your description relevant by implement keywords properly.
Chapter 10: Screenshots
Chapter 10 is an in-depth guide on screenshot design. You will discover the latest techniques to create beautiful, yet informative screenshots.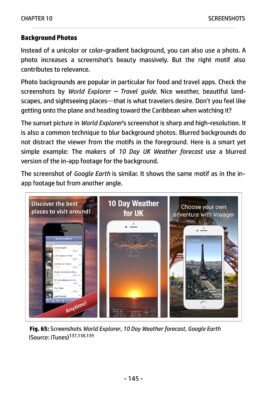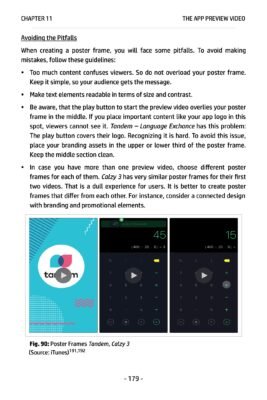 Chapter 11: The App Preview Video
App Preview Videos are the topic of Chapter 11. It teaches you how to compose videos that take your product page to the next level. You will get a lot of input regarding video structure, video pace, and storytelling.
Chapter 12: The App Icon
The first impression matters. As the app icon shows up wherever users discover you app, it shapes this first impression like no other metadata element. Chapter 12 focuses on making this first contact great by designing a relevant app icon.
Chapter 13: The Title & Other Text Elements
In chapter 13, you will find out the purpose of the app title, the subtitle, the promotional text, and the "What's new?" section.
Chapter 14: How to increase Conversion
This chapter gives you an overview of testing metadata elements to find the versions that users like best.
Chapter 15: Conversion Summary
Chapter 15 summarizes part II and connects the findings of conversion rate optimization.
PART IV – BONUS CONTENT
The fourth part of the App Store Optimization book contains a lot of useful bonus content.
Chapter 16: Localization
Translating and localizing your product page is a complex topic. But in chapter 16, you will learn everything you need to improve your translations. Also, you will understand how to avoid pitfalls that can harm the experience of international users.
Chapter 17: Color & Contrast
Colors are an essential component of every marketing message. And this is true for your ASO efforts as well. Chapter 17 will explain the meaning of colors. You will find out how to use them to support your app's message.
Chapter 18: Black Hat ASO
Chapter 18 sheds light on the dark side of App Store Optimization. You will learn about the shady ASO tactics that fraudsters use to gain unfair advantages.
Chapter 19: Tools & Sources
In chapter 19, you will find an enormous collection of tools and resources that will make your daily ASO work much easier.
Chapter 20: Conclusion
Chapter 20 summarizes the findings of the ASO guide with final remarks and descriptive figures.